Brett Holden "Capt Ahab" / Crew
Capt Ahab and his ability to find and catch fish have propelled him to be a top player in the sport-fishing world.  With his finely honed crew and a battleship called the Booby Trap, he has become an unstoppable fishing machine.  His desire for excellence has led the Booby Trap to become the top private boat in the Houston Big Game Fishing Club for 5 consecutive years!  Capt Ahab is a pioneer and has become the most recognized sword fisherman in the Gulf of Mexico (read about it in the June 2011 issue of Sportfishing Magazine) catching a record 8 daytime swords in one day and has logged over 400 swordfish to date.  Capt Ahab was also was behind the helm of the Booby Trap for the first ever recorded Super Grand Slam in the Gulf of Mexico, catching 2 Blue Marlin, 2 Swordfish, 2 Sailfish and a white marlin in a single day.  When he fires the Booby Trap up he no longer sees her as a vessel but as a weapon, 40 knots in forward and 10 knots in reverse, he fears no seas only the fuel bill…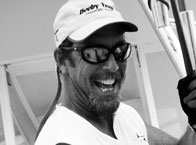 Captain Jeff Wilson / Crew
Capt Jeff (SOCKS) Wilson- As Jeff rounded the corner from the Florida waters into Louisiana and saw his first oil rig he knew the Texas waters would produce big fish. A seasoned Fisherman/Capt having navigated the waters from Nantucket to Antigua, he has now settled into Texas for his third season on the Booby Trap! Jeff enjoys spending long days at the helm and short nights in the bunk, not wanting to miss a moment of the action. In his offseason he practices tying wind-ons and experiments with knots/tackle while keeping the Booby Trap in immaculate condition.
Captain Shayne "Dot Com" Ellis / Crew
Captain, Mate, Rigging bait, Capt Shayne dot com is our go to guy!  Dot Com joined the Booby Trap team doing free-lance work 3 years ago and has settled into full time crew for the last 2 seasons.  If you have ever surfed the internet for daytime swordfish pictures you have more than likely seen dot com's photos, his obsession with big game fishing and photography has been a perfect combination for the Booby Trap.  Unwilling to compromise sleep for work he has seen as many sunrises as sunsets. When he does close his eyes for an evening nap he dreams of giant swordfish breaching the surface under his left eyelid and beautiful women walking the beach under his right, being the ladies' man that he is his only request is "text me baby" He will do what it takes to get the job done RIGHT bringing his sense of humor and the camera along for the ride!
Captain Travis "T-Rex" Joyce
If there was a definition for a cross between an offshore addict and a hard worker it would be Travis,  at the young age of 13 you could find him at the docks washing boats and looking for a ride offshore.  By the age of 18 he had achieved his personal goal of becoming a captain and soon after (1997) landed a spot running a charter boat which happened to be docked next to Capt Ahab.  Capt Travis and his desire for blue water sought out Capt Ahab and the Booby Trap and has now become the team's longest standing member.  Travis has accomplished one of the most sought after goals in Sportfishing by catching a Super Grand Slam, the first ever recorded in the Gulf of Mexico.  He was the designated angler during the Houston Invitational Billfish Tournament and caught four billfish species in one calendar day. Ahab refers to him as a fish feeding machine and among the best he has ever seen in the cockpit. If you look up the word persistence in the dictionary you might see a picture of Capt Travis.
Captain Bill "Needle" Thurber
 Capt Bill, a true pioneer of Texas Swordfishing and no stranger to the Gulf of Mexico, began fishing for nighttime swords in the 1980's.  There is no hump, lump, trench or ditch in the gulf that hasn't seen a piece of lead from Capt Bill's boat.  Ahab believes that you could blindfold Capt Bill and run in circles for hours and he would still have the ability to give you the exact coordinates. Capt Ahab's first swordfish ever caught was out of Bill's 25' Boston Whaler in the mid 1980's.  One of Ahab's goals was to show Capt Bill something he had never seen in the gulf and that proved to be a challenge and seemed almost impossible. It took Ahab 23 years to achieve that goal but it happened when Bill saw his first daytime sword aboard the Booby Trap.  There is not enough room on this site to describe the amount of knowledge that Capt Bill has stored away in memories under his salty cap.  That being said anywhere you look and see salt you will think of Capt Bill.
Tyler
Having fished with Capt Ahab (Uncle Brett) his entire life Tyler has an upper hand on most youth anglers, as he enjoys spending his time offshore on the Booby Trap!  Recognized as the Houston Big Game Fishing Club 2011 Top Junior Angler, Tyler is better known as the young man that fought the swordfish for 17 hours (read about it in the Dec 2011 issue of Sportfishing Magazine) after releasing a youth state record in hopes of a bigger one!  When he's not fishing on the Booby Trap Tyler enjoys spending time with his Grandpa Don Holden on the ranch hunting whitetail deer.  To see Tyler in action click on the following YOU TUBE link!
Don Holden / Senior Angler
 Look no further than Don to find a passion for the outdoors, his zeal for offshore fishing led him to push the limits of "The Owl" a 32' Permacraft.  Anyone that wanted to see a full fish box need to go no further than the dock when he arrived from his latest fishing trip, furthermore you can trace Capt Ahab's offshore roots to Don, as he led Brett offshore to catch his first kingfish at the age of 4.  Recently Don accomplished one of his lifelong dreams to harpoon a swordfish aboard the Booby Trap!
Monica Holden / Female Angler
Outside of being a full time mom (to baby sword), wife (to Capt Ahab, full time JOB alone!) and figure competitor, she spends plenty of time on the blue water fighting monster swordfish and blue marlin.  Monica has been recognized as Top Female Angler in the Houston Big Game Fishing Club.  Although Baby Sword put a slight hold on things for a couple of seasons, he and the rest of the crew are ready to see mom back in the chair.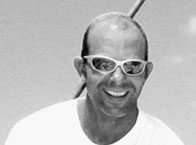 Rory Starling
Rory has been fishing the Gulf of Mexico for years and has always had an addiction to blue water fishing.   A couple of seasons back Rory became a part-time (full time job won't allow) addition to the Booby Trap fishing team.  His enthusiasm and drive to catch swordfish made him a perfect fit to participate in our offshore adventures.  After accompanying the Booby Trap on several successful daytime sword trips, Rory attempted to go Swordfishing on his own and proceeded on his first trip to break the Booby Trap's unrestricted state record swordfish (electric reel).  We are debating on letting him back on the Booby Trap!  Just kidding, he is welcome on the team whenever his schedule will allow!  Rory will also be the first to throw out a "Get Tight Sucka"

Will Drost
Will is a famous outdoor writer and photographer who has participated in several Booby Trap adventures in the past couple of seasons, being a die-hard fisherman he fit right into the team.   Will has been an instrumental asset to the Booby Trap in building publicity in magazines and the internet.  Look for Will to spend more time on the Booby Trap this season.

VIDEO > Big Swordfish on Boobytrap